Long time no photoshoot!
25 Mar 2012 22:50:41
Hello-hello I got some interesting stuff yesterday and I want to show off one part and complain about other one.
I'll start with bitching today :3 I waited for
Charlotte muffler
for so long and finally got it! I don't wear such colors so I got myself lots of pink and broun stuff so it would look good and guess what? This thing is impossible to use as shown here. The toy itself is hella heavy and keeps falling down, if you want to wear it like they
show here
, you'll have to sew it on your clothes :E
Sooo it's just a plushie. And I didn't want a plushie, I wanted the muffler, ggght. Why would they call a thing muffler if it's not a muffler!? I WANT MY SCARF.
Well, let's move to the good part! I finally got my ass to take the stuff
Rubee
left for me, took me so long =_= English-speaking users might not be aware that there's a magazine called "The House of the Dream" here in Russia and they have some piece of 1/12 furniture (yep, perfect for figmas) with each issue. So thanks to Rubee I got a bed, a drawer and some little stuff. My huge respect to all the people who played with dolls in their childhood. Took me a hour and a half + lot to make a bed. The only figma I found was Miku Append so I've built a room for her.
Yep.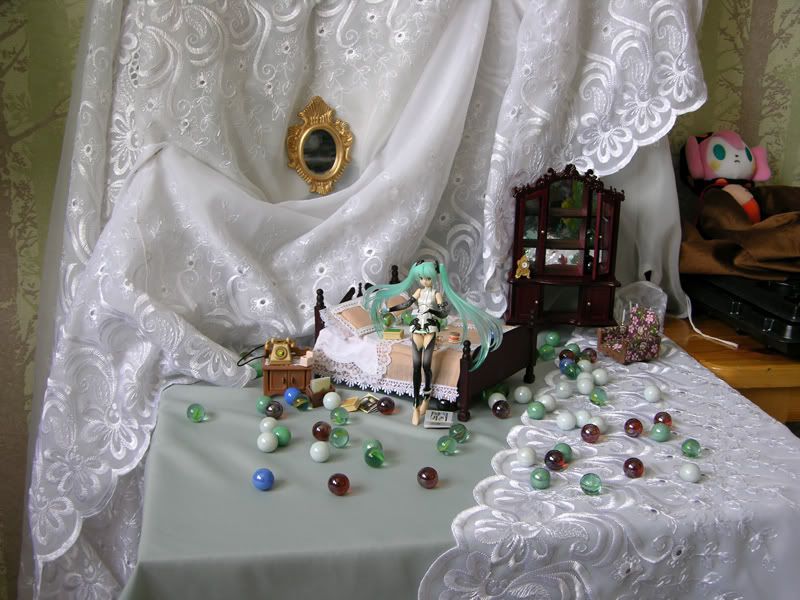 My camera probably hates me or something but it's really hard to deal with it now, however fixing is expensive :<
Well, the furniture is great and so much fun to play with, thank you Rubee :3
Well, pictures here~
Собсна, фоточки.
Thank you for attention and bye-bye C:
Спасибо за внимание и пока-пока! С:
PS: I realized I forgot to show Charlotte!
ПС: Дошло, что Шарлотту-то я и не показала!