LOOTS!! Bleach - Ichigo Hollow Form
06 Jan 2019 23:17:27
**WARNING THIS BLOG IS PIC HEAVY!!!**
Hello fellow collectors!
So let me first say, that I am a fan of Bleach, and while there are a few Ichigo figures out there, I wasn't really "in love" with any of them that were still obtainable for a decent price. I wanted an Ichigo, that 1) showed Ichigo's face, but 2) if it could be super bad-ass and have his hollow mask or something...BONUS for sure!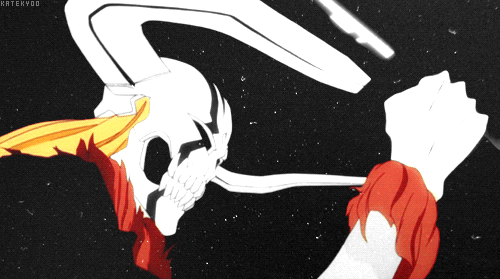 I first saw Ryu Studios Ichigo prototype, way back when it was just a digital concept art (
Ryu Studio Ichigo
), I remember thinking OMG, this is it!!! Finally!! BUT...then I researched RYU and well nothing negative about their company at all, as their pieces look great...other than good luck getting them without selling your kidneys and left leg if you live in most parts of the world. I won't go into great detail, as I think I did that already on the product page above, but basically you'll end up having to go through a proxy who will have to pay custom fees and shipping (because guess what, they can't get it from the warehouse because their license doesn't cover there or something like that) add in the proxy fees then shipping from them to you, and all that adds up to damn near the cost of the actual figure itself, so a $700 figure (which is already pretty expensive if you ask me) then becomes around $1300-$1400. So, thus ended my hopes of getting Ryu's Ichigo.
So I'd pretty much given up, when I happened across a picture of this figure on one of the Facebook groups I'm in. This is Ichigo - Hollow Form by Last Sleep:
I thought, wow...that's pretty impressive! AND you get Ichigo with 2 heads (with and without his Hollow mask), plus his bad-ass Vasto Lorde form all in ONE figure? I went back and forth on it, as I did love it and felt this may be my only chance ever to have an Ichigo I really loved (by the way I do also love the Tsume piece (
Ichigo Final_Getsuga Tensho
) and the Square Enix piece (
Sculpture Arts Ichigo Kurosaki
), but their aftermarket price tags resulted in a no-go for me, plus the SE one is kinda small and the other while totally bad-ass is a form where you can't see Ichigo's face, he doesn't have his signature orange hair, and he is only ever in that amazing form, for like 2 mins). So anyway, my only concern with the Last Sleep piece was that 1) it's unlicensed and 2) why is hair blonde, not orange? So...then I saw a post they made where they showed some additional shots of his Hollow head, and in that his hair was the perfect orange, and they noted they were fixing the color on the final version. So, my fear of forever losing out, won out and I pulled trigger and ordered the piece!
And I can say, I do not regret it one bit!! When I opened him up and started taking out the pieces, and ESPECIALLY once I got it all together, I was sooo glad I went ahead and got this. He was way better than the promo pics made him out to be, so all my sadness about not being able to snatch up the RYU figure, quickly faded away (as until this moment, it was still somewhat my favorite)!
So I'll quit running my mouth, and share pics of the unboxing, the assembly and of course the final piece!
Ok, so here are some of the box. It was quite large and fairly heavy. I had to enlist the help of my dearest husband to get it unpacked. :D Oh, and Sadie (my 18+ year old cat) and Moxxi (my 2 year old Jack Russell) would also like to think they assisted as well.
After removing it from the shipping box, it had a nice black box and inside that it was packaged really well in a super thick styrofoam chest so to speak. :D
**Click Here to See More Unboxing**



Inside the Styrofoam were two layers of pieces of the statue tucked away into their own individual slots. Each piece was carefully wrapped with paper with more Styrofoam shoved into nooks and such to keep it all safe and sound. There was a top layer that opened up and then the main chest could be separated into to pieces as well to reveal the bottom layer:



Luckily I had my QA team on standby to inspect each piece as I removed it from the box.

It came with what I'm assuming is a neat little display card that was in a black envelope with string holding it shut:
He came with alternate heads for his more "human" form to swap between (with or without the Hollow Mask), plus the head for his Vasto Lorde form that stands in the back:
**Click to See More Head Shots**
Here are a few shots of the two bodies:
**Click Here for More Part Shots**
And after taking it all out, I was able to start the assembly!! Much to my dismay there were no instructions for assembly nor did they include a reference image (why in the world not I'll never know), but it was kind of like working on an expensive puzzle, and eventually I was able to get it to come together (though I did have to cheat and reference a few google images once or twice for some of the red swirly goodness)! It uses magnets for the most everything to hold things in place, and some are pretty stout...
And finally here are a few close-ups of the fully assembled statue (you can click on these to see a larger version of the pic):
**Click to See More**
And for now, I'm actually using his box as a display stand until I can get some things worked out:
And a couple of my favorite shots...
Thanks for reading, and hope you saw something that was at least a wee bit entertaining for you!
Laters!! :D
Stacy