Figure News: New Figuarts and D-arts releases now shipping
21 Nov 2010 00:02:21
It's just about that time of the month when most of the big companies begin shipping their wares, and Bandai's no exception. Just this past 48 hours, they've shipped one of their S.H. Figuarts releases, as well as the start of a brand new line!
S.H. Figuarts Kamen Rider Kiva Emperor Form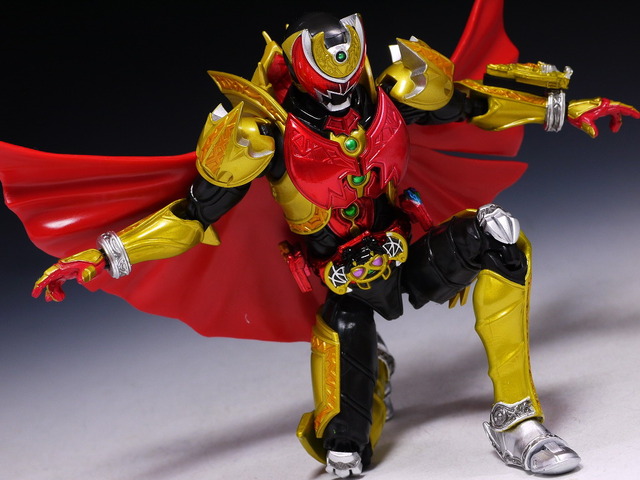 *thunder* "Ah, ah, ah! ...You know that I am called the Count, because I REALLY love to count..."
Despite the mediocrity of the show itself, it's hard to deny that Kamen Rider Kiva had some very nice suit designs. Bandai has decided to finally give its titular Rider the Figuarts treatment, in the form of Kiva's golden Emperor Form! In addition to the requisite hands, the Figuarts includes an accessory which forever confined Emperor Form to infamy.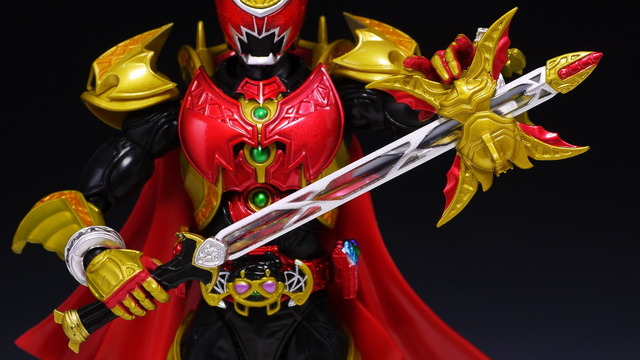 That's right, it's the legendary Fapsword! Kiva Emperor's Zanbat Sword is very hard to take seriously when you see how it's powered up. To charge it, he grasps that handle and slides it up and down the blade repeatedly, and if he does it enough, it shoots blasts of energy. Yeah. I can only imagine Revoltech Woody utilizing this weapon...
Let's move on, shall we?
D-arts WarGreymon
"OHBOYOHBOYOHBOY - I love balls of fire!"
Bandai's newest posable line, D-arts, has proven to have a somewhat eclectic assortment. So far, it's been confirmed to have Digimon, Medabots, and Megaman characters, and they're trying to get the license for Nintendo and Persona characters (good luck on the former). Regardless, the first release in the line, Digimon's WarGreymon, is finally shipping out! It hasn't reached many collectors yet, but the consensus among those who have gotten one is that it maintains the Figuarts quality (avoiding the Ultra-Act fiasco last June).
So, is anyone interested in D-arts, or about Kiva's sword antics? Sound off below!