FIGURE SALE! (Almost Every Code Geass Figure Ever)
21 Feb 2011 06:29:21
Up for sale is almost every Code Geass figure ever released!
You can contact me about purchase at cmitch319@yahoo.com. Please give me time to respond in case some emails end up in my junk folder.
Only accepted payment method is paypal, if you would like to pay another way please ask me and maybe we can negotiate.
Prices do not include shipping, total item cost will be determined later.
All prices listed below under pictures-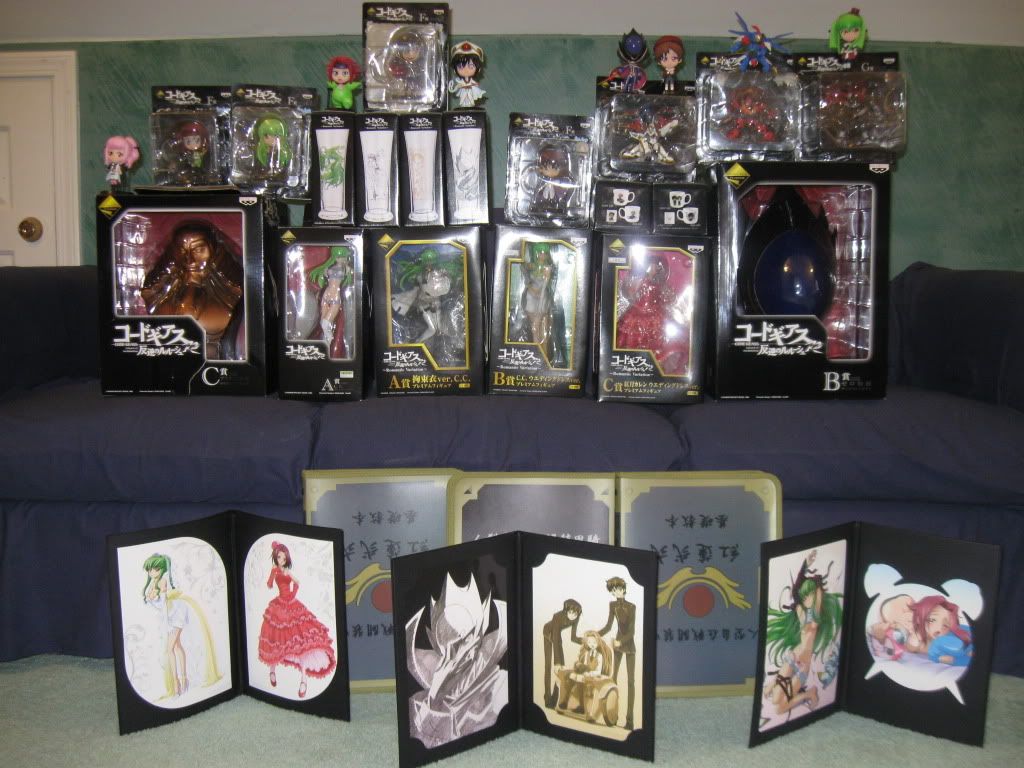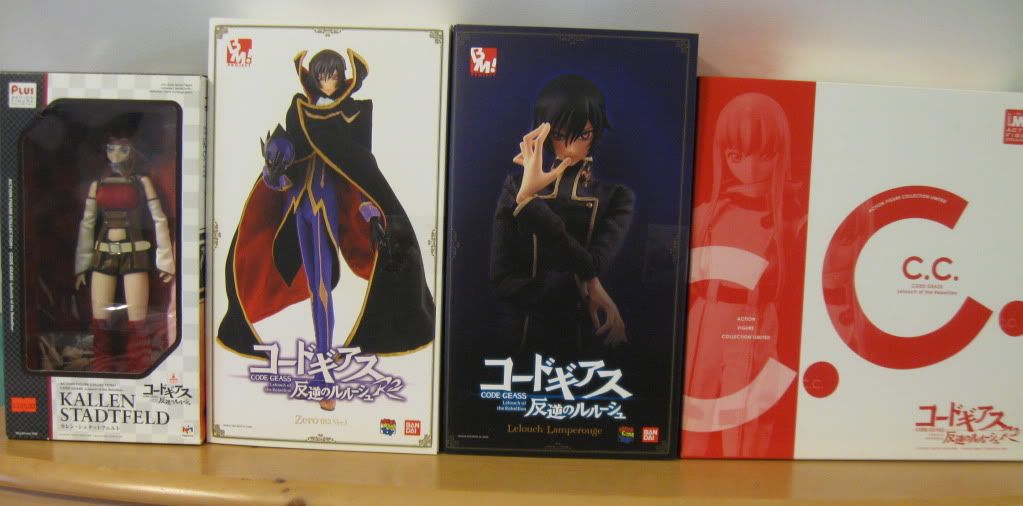 MegaHouse Kallen Doll- $145
Medicom Lelouch (Zero Version)- $250
Medicom Lelouch (Uniform Version)- $175 SOLD
MegaHouse Action Doll C.C.- $250
/B]
[B]Banpresto 1st Lottery C.C. (Prize A) Black Uniform- $140
Banpresto 2nd Lottery C.C. (Prize A) White Uniform- $70
Banpresto 2nd Lottery C.C. (Prize B) Wedding Ver.- $130
Banpreto 2nd Lottery Kallen (Prize C) Wedding Ver.-$130
Pre-painted Gathering GK C.C.- $200
Pre-painted Gathering GK Lelouch- $200
Emotion Style Kallen- $100
Emotion Style Villetta- $100
B-Club Completed Statue Cornelia- $175
B-Club Completed Statue Kallen- $175
B-Club Completed Statue Euphemia- $175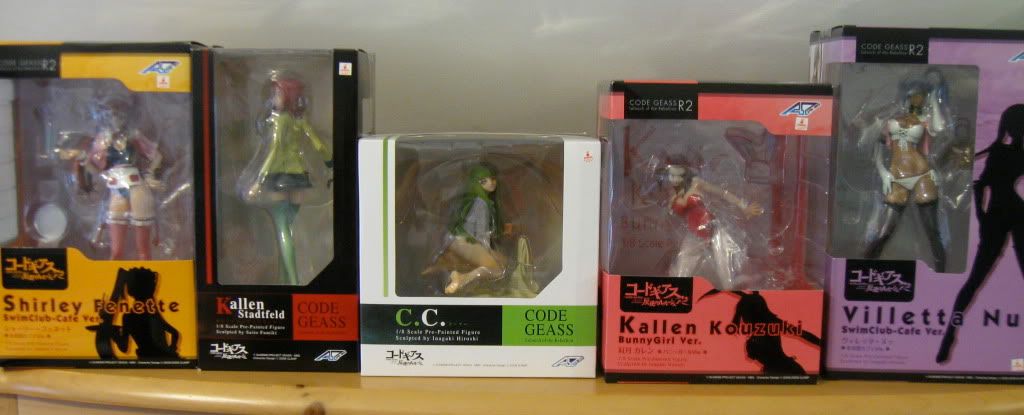 Alter Shirley- $125 SOLD
Alter Kallen (School Uniform)- $100 SOLD
Alter C.C.- $100 SOLD
Alter Kallen (Bunny Ver.)- $75
Alter Villetta- $125 SOLD

Prop Plus Suzaku- $55
Prop Plus Lelouch- $55
Figma Lelouch- $110
Figma Suzaku- $85

Sega Prize Kallen- $15 SOLD


Sega Prize C.C. (White Straitjacket Normal, 1 available)- $20
Sega Prize C.C. (White Straitjacket w/ Pizza, 1 available)- $20

Sega Prize C.C. (Black Uniform, Normal)- $20 SOLD
Sega Prize C.C. (White Clothes, Normal)- $20

Sega Prize C.C. (Black Uniform, Metallic)- $25
Sega Prize C.C. (White Clothes, Metallic)- $25
1st Code Geass Ex Portraits- $15 a piece, $25 for secret versions

Suzaku- SOLD
Lelouch (Normal)- SOLD
Zero (Normal)- SOLD

2nd Code Geass Ex Portraits- $15 a piece, $25 for secret versions

Lelouch (Blue Uniform)- SOLD
Suzaku- SOLD
Lelouch (School Uniform)- SOLD

Otomedama Nano Figures- $15 a piece (2 of C.C. white ver. available)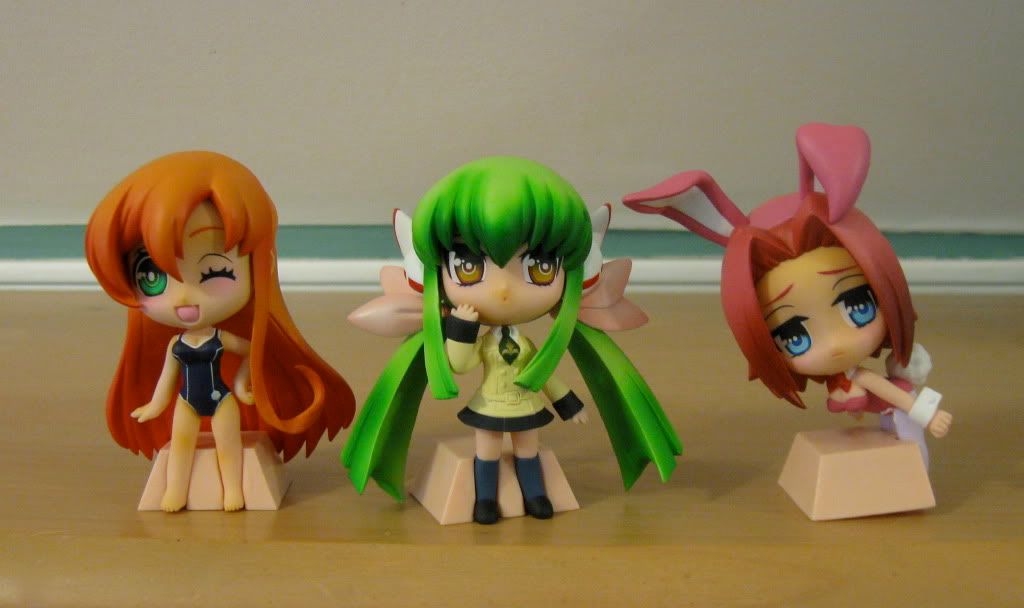 Shirley, C.C., Kallen Chibi figures- $15 each

New-Type Romance Limited Edition Voice Dolls- (Only sold in sets of two) $30 for each set

Cat Lelouch and Suzaku- SOLD

Voice Dolls Vol. 1- $10 for each

C.C.- SOLD
Suzaku- SOLD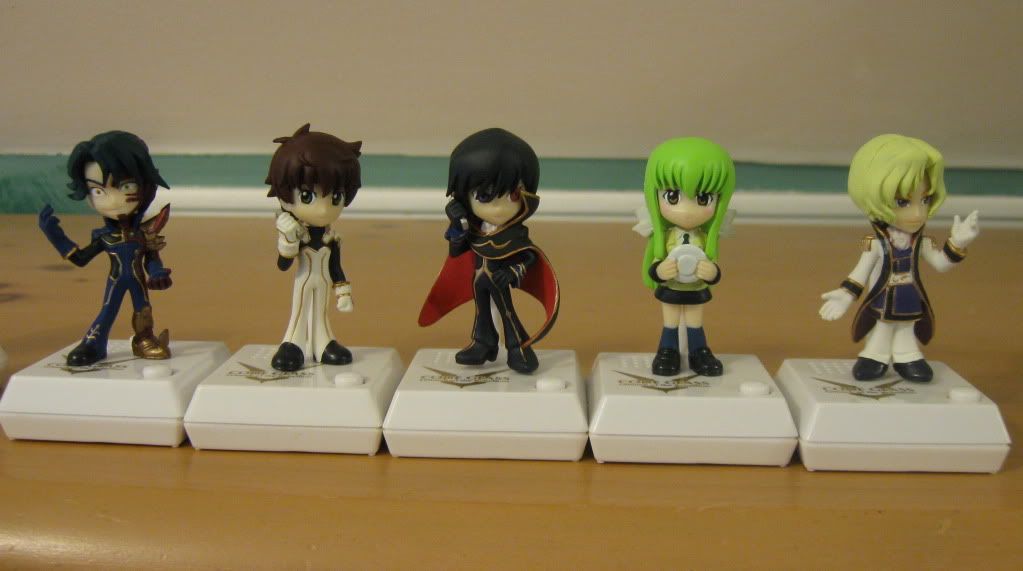 Voice Dolls Vol. 2- $10 for each

C.C.- SOLD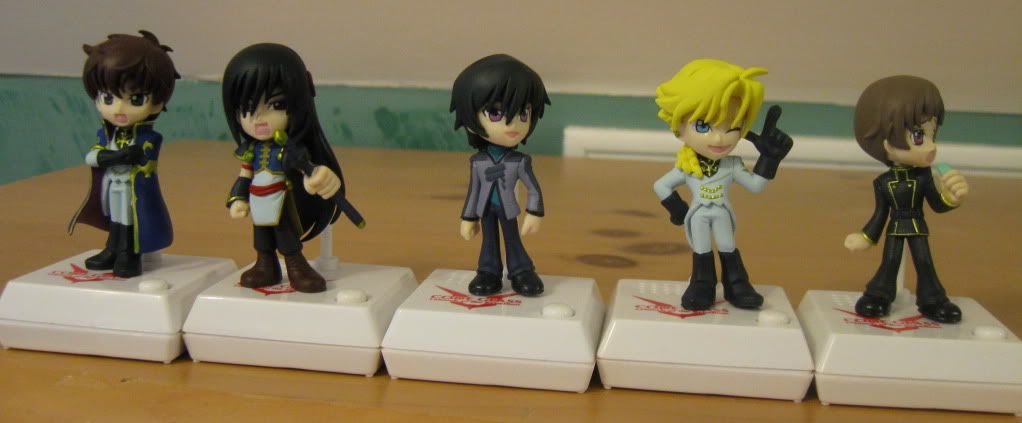 Voice Dolls Vol. 3- $10 for each


Figure Meister Trading figures (Euphemia, Suzaku, C.C., Lelouch Normal, Lelouch Zero Mask)- $15 for each
Lelouch (Normal)- SOLD
2nd Banpresto Lottery Prize Pictures- $12 for each
1st Banpresto Lottery Prize Mugs (Sets of Two)- $10 for each
1st Banpresto Lottery Prize Zero Mask (B Prize)- $100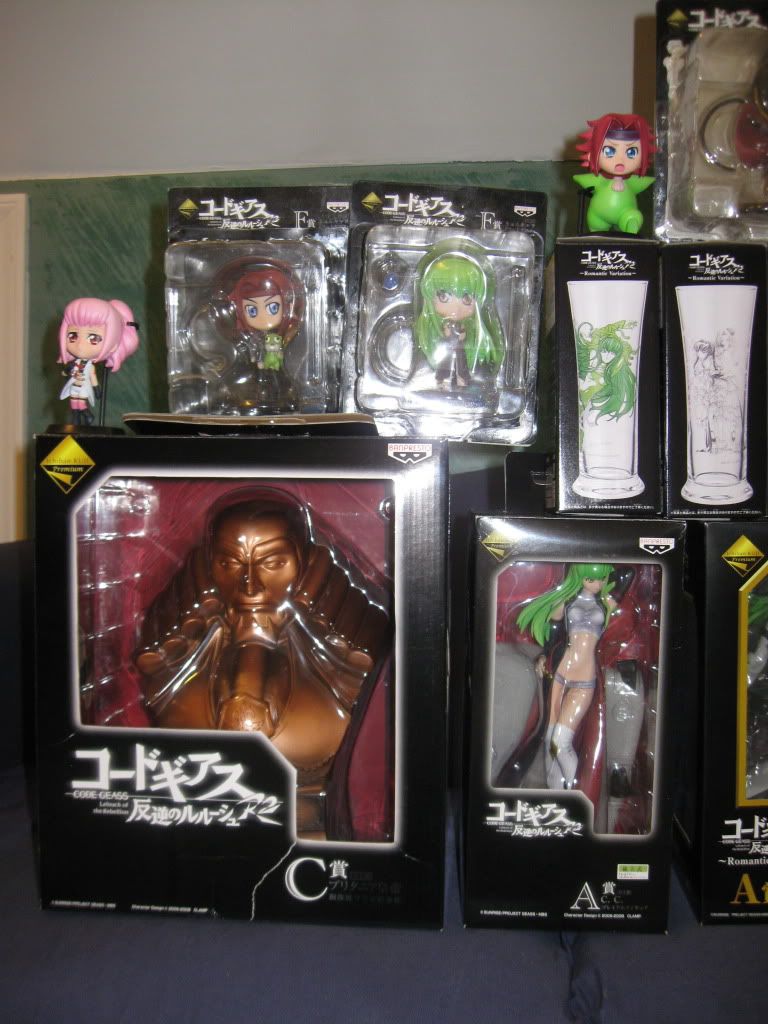 1st Banpresto Lottery Prize Charles Zi Brittania Bank (C Prize)- $50

1st Banpreto Lottery Prize Chibi Figures- $15 a piece

Lelouch- SOLD
Suzaku- SOLD
C.C.- SOLD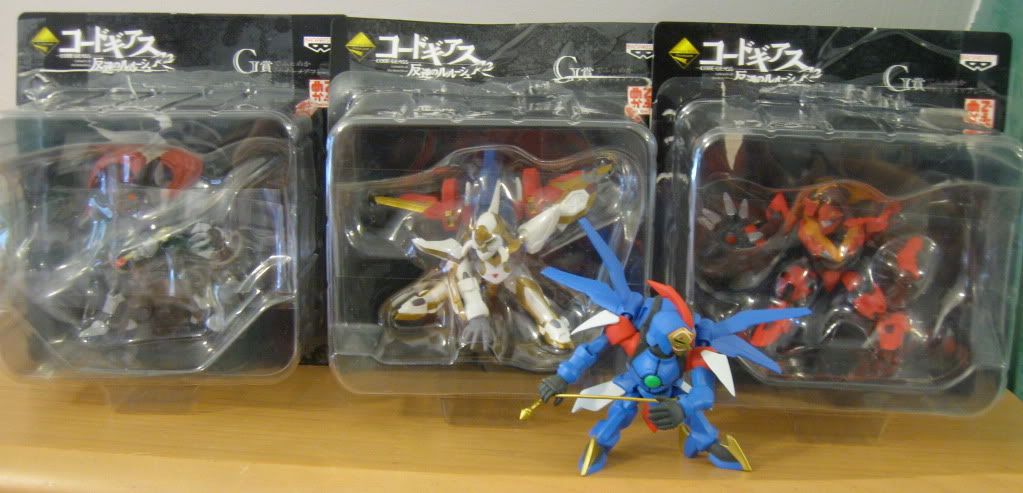 1st Banpresto Lottery Prize Mini-Mechs- $7 a piece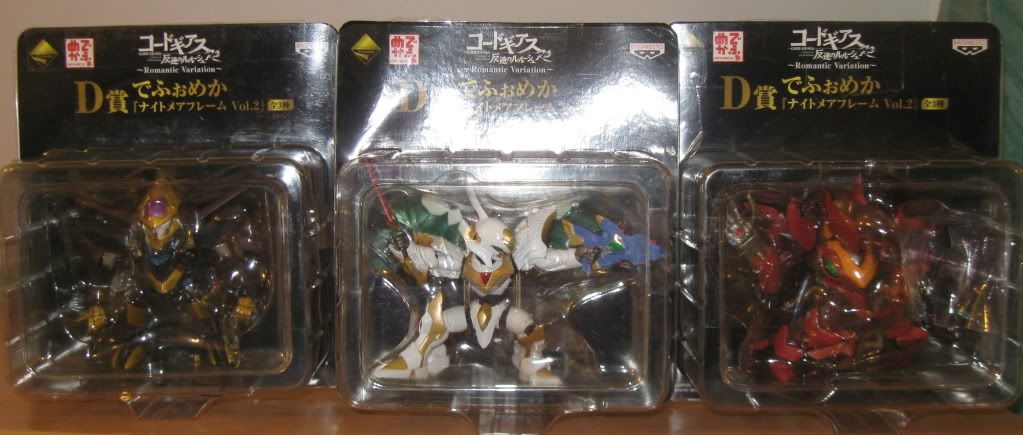 2nd Banpresto Lottery Prize Mini-Mechs- $7 a piece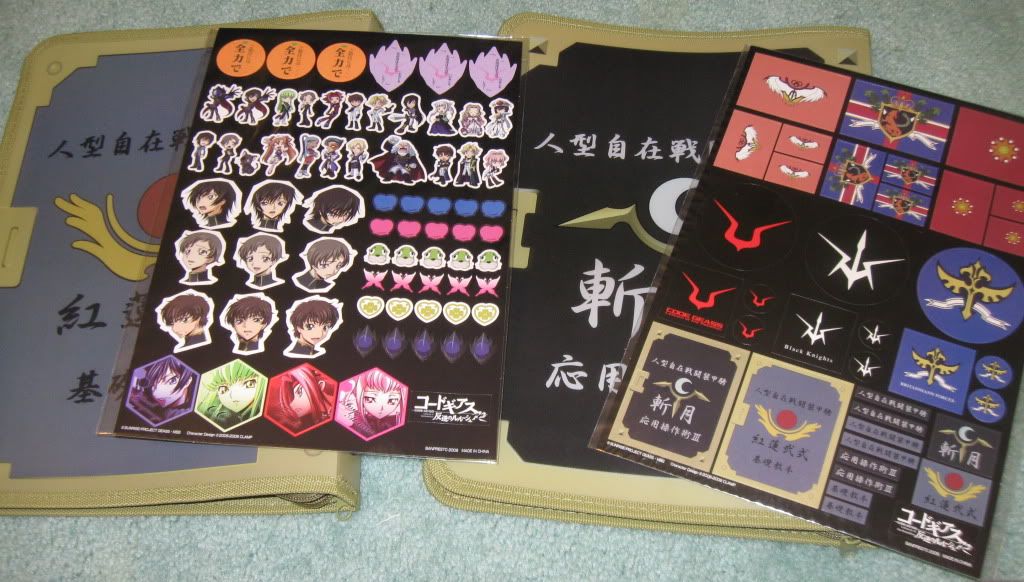 1st Banpreto Lottery Prize Zip-Up Folders w/ Stickers- $5 for each (2 Grey folders available)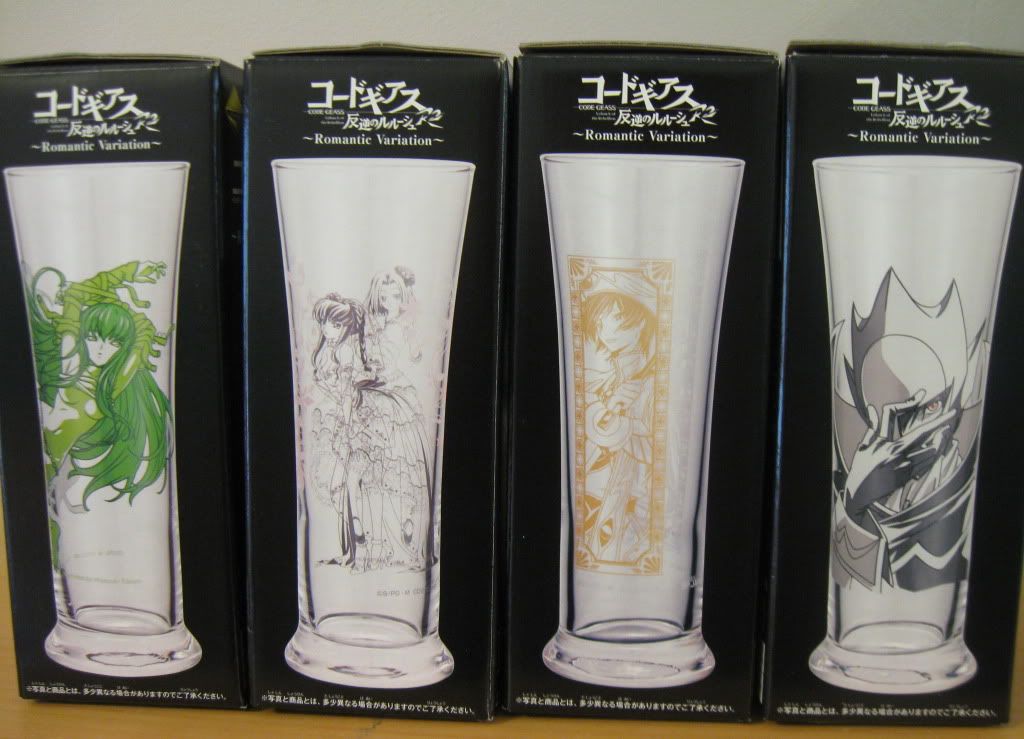 2nd Banpresto Lottery Prize Glasses- $15 for each

C.C. & Kallen Glass- SOLD
Banpresto Lelouch Plush- $10
Spy
33
|
add a comment